According to a recent survey by the Federal Reserve, 46% of Americans indicated that they do not have enough money saved to cover a $400 emergency expense. Many Americans are one accident, job loss, or illness away from financial ruin. SAHF members work to help residents increase their savings, improve their financial health, and advance their careers.
SAHF FAMILIES LIVE BELOW THE FEDERAL POVERTY LEVEL
SAHF members provide affordable homes and services to vulnerable populations, including seniors, individuals with special needs, and low-income families. The chart below shows that for households of all sizes, SAHF families have median income levels that are at or below the federal poverty level. As household sizes grow, median incomes fall well below the federal poverty level.
Comparing SAHF Household Income to Census Tract Median Income, by State
Across the SAHF portfolio, SAHF members house families whose income is well below the median income of the neighborhood (defined as census tract) in which they live. The chart below compares the median income of SAHF households against the median income of the census tracts in which SAHF properties are located, by state. For 660 out of 978 SAHF properties (67%), the median household income is less than 60% of the census tract median income. Rather than concentrating poverty in certain neighborhoods, SAHF members provide affordable housing to residents of economically-diverse neighborhoods, with a mix of low, middle, and high-income households.
Median Household Income by Neighborhood Density
SAHF properties are located in rural, suburban and urban areas across the U.S. SAHF families in urban areas have higher median incomes than families in suburban or rural areas, whereas SAHF seniors in urban areas have the lowest median incomes. We do not know exactly why this is the case, but we can speculate that as most U.S. cities have become more expensive over the past couple decades and companies compete for workers in urban areas, working-age adults may have benefited from rising wages due to market forces, whereas seniors on pensions or other fixed income sources have not benefited from this trend. This puts a particular strain on the budgets of fixed-income seniors living in urban areas.
Average and median household income levels for non-senior families across the SAHF portfolio has steadily increased from 2014 to 2016.
Building financial assets
At many SAHF member properties, resident service coordinators work with local organizations to offer onsite credit-building programs, financial education, employment coaching, and other opportunities. Some SAHF members also create their own programs and services that help residents achieve financial stability. Preliminary data suggests that these efforts are having an impact.
Average and median household income levels for non-senior families across the SAHF member portfolio steadily increased from 2014 to 2016.
Changes in Family Income for Continuous Households: 2014-2016
Additionally, data shows that residents' savings—including checking and saving accounts, retirement accounts, and other monetary funds—increased from 2015 to 2016 for all types of households, including seniors (this includes all reporting households living in SAHF member properties in 2015 and 2016, not necessarily the same cohort of households tracked from 2015 to 2016).
median value of SAHF Household assets over time
One goal of the Outcomes Initiative is to assess the impact of providing service coordination at affordable housing properties. The following chart indicates that resident savings increased by the greatest amount at properties with a resident services coordinator.
Changes in median household assets for properties with and without resident services coordination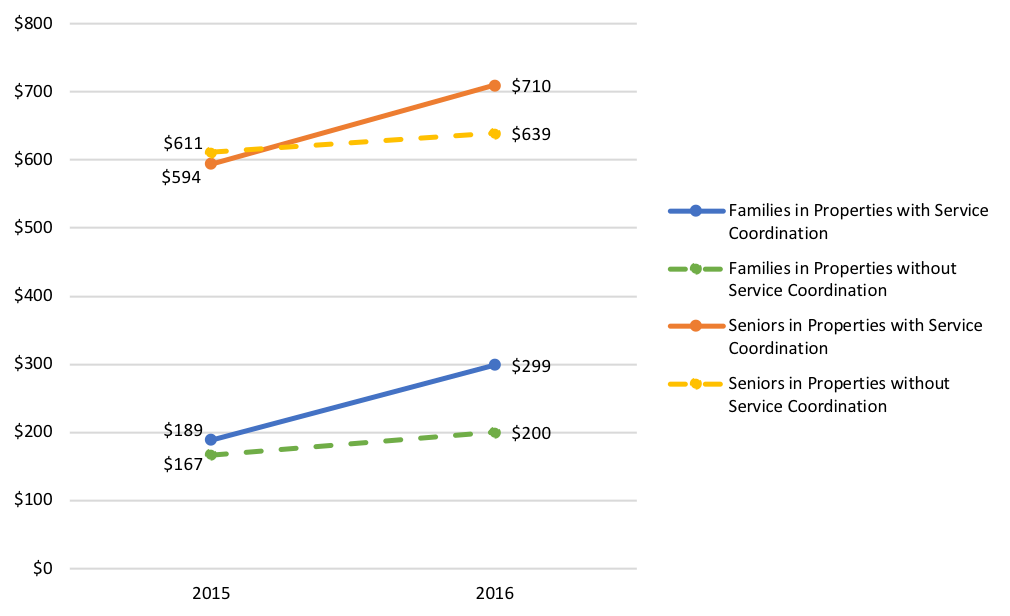 In sum, SAHF hopes that the momentum of this Outcomes Initiative proves to be a significant step forward in making the full potential of service-enriched housing a reality and attracts additional partners and investors to the work of committed affordable housing providers. Service-enriched affordable housing has the potential to create pathways out of poverty for families, revitalize neighborhoods, and strengthen communities of all types across the U.S.
A Closer Look
CommonBond Helps Residents Build Credit and Find Living-Wage Employment
Four years ago, Nadifo, a Somali immigrant living in St. Paul, Minnesota, had only a part-time minimum-wage job and no credit history. An employment and financial coach at Skyline Tower, an affordable apartment building managed and owned by CommonBond Communities, set Nadifo on the path to a better financial future.
CommonBond, a member of SAHF, provides residents at many sites in Minnesota, Wisconsin, and Iowa with adult education and employment services. That personal attention is a big advantage, explains Claudia Wasserman, employment program manager for CommonBond.
At workforce centers elsewhere in the Twin Cities, job seekers often work individually at a computer to search for leads, she notes. "And a lot of our residents are not computer literate and not fluent in English, either."
That was the case for Nadifo. "She didn't know how to create a resume or have access to a computer or know how to apply for jobs online," recalls Ayan Hussein, an employment and financial coach at Skyline.